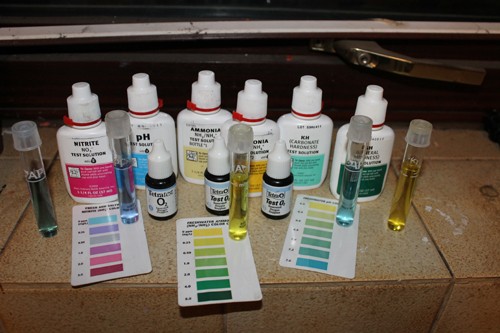 I have heard many a discussion around fish keeping. Over the years I have been a member of the odd forum and read many an article with interest. Debate is often rife around the best filters, who has the biggest pond, who has the clearest water! And that last point is the most critical in fish keeping. Clearest water….
It would be mad to assume that clear water is safe water. Yet so many people do and as a result loose some, if not all, of their watery homed friends. The quest for clear is not necessarily the quest for safe. An example of this would be the acidic lakes of Norway that support very little life. A change in water chemistry can significantly upset aquatic life, even kill quite rapidly. We need to change our thinking. We are not fish keepers, we are water keepers. If the water chemistry is as it should be then our Fishy friends will be fine. It may even be Gin Clear! (Fish couldn't live in Gin either).
We currently cover 2 areas of the country. These area a 40 mile radius of Ilkeston, Derbyshire and a 40 mile radius of Guilford, Surrey. Should you fall outside of these areas please contact us as we may be able to recommend a suitable consultant.
Basic Assessment – From £44.99
Water Temp
pH High/Low
Ammonia
Nitrite
Free Advice and Health Check Sheet
Intermediate Assessment – From £59.99
Water Temp
pH High/Low
Ammonia
Nitrite
Nitrate
Free Advice and Health Check Sheet
Advanced Assessment – From £79.99
Water Temperature
pH High/Low
Ammonia
Nitrite
Nitrate
GH – General Hardness
KH – Carbonate Harness
Dissolved Oxygen
Free Advice and Health Check Sheet and follow up visit if required